King's Lynn homes halted over incinerator decision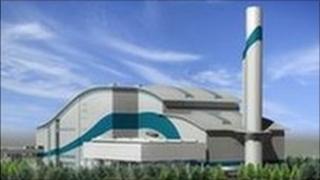 Norfolk County Council funding for new homes in King's Lynn has been frozen until it is decided how the town's proposed incinerator will be paid for.
The council announced its decision after the government said it wanted more information about the objections to the plant before contributing £169m.
In a joint venture with the borough council, 155 homes were due to be built on the Nar Ouse Regeneration Area.
The borough council said it would make back-up plans to ensure completion.
Nick Daubney, Conservative leader of the Borough Council of King's Lynn & West Norfolk, said the authority was "committed" to the housing project in south Lynn and hoped it would run on schedule.
However, he added he was "disappointed" with the county council's decision because there was "a lot of homes at stake".
'Volume of objections'
Norfolk County Council said it had not withdrawn completely from the project but could not commit to further expenditure until it knew whether it would receive the government grant.
"The county council remains committed to providing £1.5m towards redevelopment at the College of West Anglia and to its loan for use in Great Yarmouth, but cannot confirm any further expenditure while the risk to waste incinerator credits remains," a statement said.
Earlier in November, Environment Secretary Caroline Spelman said she was "concerned by the large volume of objections" to the waste incinerator.
In a letter to the county council, she said she wanted more evidence about waste management plans.
The council responded by saying it could still be cheaper for it to go ahead with the project without government funding, rather than back out of it.
A judicial review is under way into the award of the £500m contract to Cory Wheelabrator to build and run the waste plant at Saddlebow.