Norwich nightlife businessman Hy Kurzner dies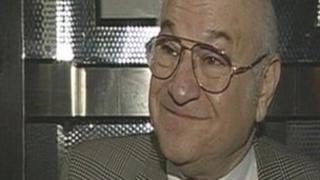 A leading Norwich businessman, civic figure and journalist has died, aged 78.
Henry "Hy" Kurzner was well known as the man behind Hys nightclub, Boswells bar, and Pizza One, Pancakes Too!, all in Tombland.
He had come to the city in the 1970s following a career change from being a journalist in the United States, Vietnam and London.
Mr Kurzner died of a heart attack in hospital on Friday.
'Mr Norwich'
Author and broadcaster John Swinfield described Mr Kurzner as his closest friend, who was a "big personality" and "deeply compassionate".
He said the businessman was "a New York boy through and through" but also "Mr Norwich".
"Most people don't realise Hy had an extraordinary life before he came to Norwich," he added.
"A New York Jew, he was one of five accomplished brothers born to impoverished Russian immigrants who had sought a new life in the Bronx."
In the early 1970s, Mr Kurzner became bureau chief for the American Broadcasting Corporation (ABC) in Vietnam, and came to the UK as news editor of news film agency Visnews.
He later became a founding member and the Foreign News Director of TVN, America's first all news television network.
He moved to London when he married and the couple went into hospitality, with Mr Kurzner heading to Norwich to view a "commercial prospect" which became his famed enterprise.
He was also a civic figure and founded the Night Club Liaison Committee, which became a blueprint for similar associations between the police and the entertainment industry throughout the UK.
The group also introduced the UK's first education and licensing system for door staff.
Mr Swinfield said people would frequently approach Mr Kurzner with their memories of nights out at his restaurant, bar or club, or of working for him.
"Hy was one of those rare souls who really cared, and that which he cared most about was his family."
Stash Kirkbride, whose mother Melinda was creative director at Kurzner Enterprises, said Mr Kurzner was a second father to him.
"Hy Kurzner was an inspiration to a vast amount of people in Norfolk," he said.
"His greatest advice to me has been 'have the courage to do different', something he did within business and the arts in Norfolk for over two decades.
"I shall miss him enormously. He was a wonderful friend and a huge figure within the fabric of Norfolk life."
Mr Kurzner leaves his wife, Valerie, daughters Emma and Karen and three grandchildren.