Hana's Gift helps to fund fitting tributes to babies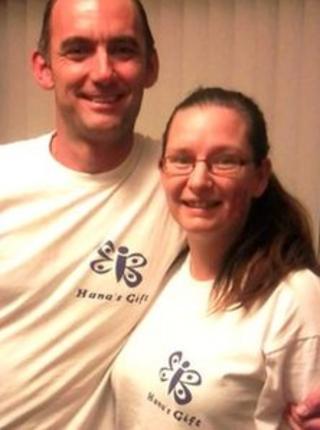 When bereaved mother Karen Murray-Tye attended a register office to record both the stillbirth and death of her first baby, she was confronted by the realisation of everything she had lost.
Before her stood a couple with their new baby - registering its birth just as she had expected to do until a few days before.
"Someone who has just lost their baby should not be put in this position," she said to herself.
For many mothers, to have to register both the stillbirth and death while arranging a baby's funeral could be an unbearable ordeal.
Mrs Murray-Tye, 33, from Aylsham in Norfolk, said that she just burst into tears but has now turned that traumatic experience to the benefit of others.
She discovered her first baby had died when she was 25 weeks and two days pregnant. She has now set up the charity Hana's Gift, named after her baby, to help other grieving couples in Norfolk.
Its aim is to raise money so that cash-strapped couples can buy headstones or other memorials.
About 17 babies are stillborn or die during childbirth every day in the UK according to Sands, the charity that supports bereaved mothers.
For many bereaved mothers and their partners a funeral is a huge expense and often leaves little for a lasting memorial.
The trauma of the loss of her first baby in 2006 has haunted Mrs Murray-Tye during years of grief.
She also split from Hana's father but has found a new partner, Paul Tye, and they have two children, four-year-old Eloise and Connor, two.
"With Hana everything was fine up to the 24th week when I went for a check-up," she said.
"I told the GP the baby seemed to be lying in the same place. He said he could hear two heartbeats but I wasn't convinced so next day I phoned the hospital and a scan revealed the baby had died."
Burst into tears
Mrs Murray-Tye then had to wait a couple of days before she could be induced to give birth naturally.
During the labour all kinds of things went through her mind and she even began to believe the doctors could be wrong and the baby would be born alive.
She had already bought a buggy and cot for the baby and a feeling of happy anticipation had spread through her close-knit family.
After the birth Mrs Murray-Tye said she felt like a "zombie".
"The staff were brilliant. I held Hana in my arms, a chaplain came to see me and I was allowed to keep the baby with me overnight as I recovered."
But during the next few days Mrs Murray-Tye had to face a real ordeal.
"I just threw myself into preparing the funeral and going through the legal procedures of recording the birth and the death," she said.
"At the registrar a couple came in with their new baby and I just burst into tears."
She said the trauma of such a meeting should be avoided for people in her situation and wants the registration process to be done at the hospital.
A post-mortem examination revealed it was like a cot death. The baby just went to sleep and did not wake up, Mrs Murray-Tye said.
"I know I did everything right during pregnancy but still lost Hana."
Mrs Murray-Tye was with Hana for 24 hours and that time is precious to her but the day of the funeral was a blur.
Her grandfather carried the coffin, a special poem was read and memorable songs chosen.
The baby was cremated and a small plaque set up in her memory but Mrs Murray-Tye said she deserved better.
Secret Millionaire
From this experience Mrs Murray-Tye set up the charity to help others. Typical of the people she helps are a couple who hated going to their baby's grave because it was so bare with just wooden a cross to mark it.
Another woman who lost her baby 18 years ago also called for help, showing that grief can last a very long time, Mrs Murray-Tye said.
Money is raised through social events and word is spreading.
Events like quizzes, a clairvoyant evening, sponsored walks, fetes and raffles raise money.
"These are not sad occasions but I do tell people why we are raising money," Mrs Murray-Tye said.
And then the Secret Millionaire programme made contact and she received a cheque for £12,000.
About 10 couples were helped in the charity's first year and now Mrs Murray-Tye is busy building up funds for its second year.
To raise money people are doing sponsored climbs of Kilimanjaro in Tanzania, men are having their chests waxed and others are bungie jumping. A dinner dance is also planned.