Oli Brown to preview Here I Am at Norwich blues gig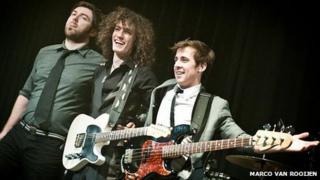 Young British blues maestro Oli Brown will treat local fans to songs from his forthcoming third album when he returns to Norfolk this month.
After touring the world in 2011, the award-winning artist said the Norwich Waterfront concert on 15 December would feature a selection of new "mature-sounding" tracks from LP Here I Am.
During the homecoming gig he will also show off his new band line-up.
The third Oli Brown Band record is due for release at the end of March.
"The gig is a chance to show everyone what we've been up to this year and how we've progressed," said the 22-year-old guitarist and singer.
"I love coming back to play The Waterfront. It's a good chance to do something new."
Oli Brown, from Sco Ruston near North Walsham, shot to fame in the blues world after his debut album Open Road garnered rave reviews in 2008 when he was just a teenager.
In 2010 his British Blues award-winning second LP Heads I Win, Tails You Lose, had so much anticipation it brought veteran producer Mike Vernon, of Eric Clapton and Fleetwood Mac fame, out of retirement to cut it.
A year on, tracks are now being laid down for a third Oli Brown Band record, this time featuring a new line-up of drummer Wayne Proctor and bassist Scott Barnes.
'Trying to evolve'
Similar to the first two albums, it will contain a mixture of new material and cover songs.
However, while working at a frantic pace to create his previous efforts, Brown said recording this time had taken a fresh approach.
"The work ethic of this album has been very different to the last albums," he said.
"Wayne's producing this album - the drummer - and we've had lot more time to really work on the songs.
"I'm always trying to evolve and improve as a musician and I think with the extra studio time, we've had more time to think about the songs and really get the most out of them.
"We all feel like we're moving somewhere with it. I usually dread recording a little bit, but this time it's been so much fun."
Alongside writing and recording a new album, it has been a whirlwind year for the young musician.
Oli Brown Band won two further British Blues Awards in September for best band and sticksman in Proctor.
The group has also been touring all over the world playing gigs in the USA, Canada, Israel, Finland and The Netherlands.
Following a brief setback in New Zealand where Brown suffered a hairline fracture to his pelvis, the band returned to the UK after being invited to open up for blues veteran John Mayall.
During this two month, 25-date tour, it was the first chance for Mayall to properly cast his eyes upon the young star.
A friendship eventually formed that would see the statesman ask Brown to play as part of his band in Indonesia.
'Emotional value'
Brown will jet to Jakarta to play at a blues festival with Mayall just two days after the Christmas concert in Norwich, on 17 December.
"His guitarist couldn't make the gig, so I was asked," said Brown.
"I'm very lucky to be on it and very honoured, but also absolutely terrified."
In the new year Oli Brown Band will tour the UK around the release of Here I Am, calling at Diss Corn Hall on 26 April.
"It's very special to go back to Norfolk and play there," said Brown.
"It's where I cut my teeth and practised so I could get to where I am now. It's got an emotional value."
Here I Am will be released in March, on a date yet to be confirmed, through Ruf Records.