Norwich Puppet Theatre: Red Riding Hood heralds new era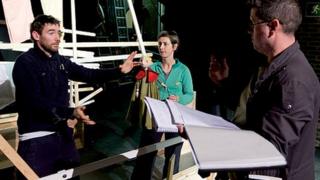 Norwich Puppet Theatre (NPT) has marked a new chapter in its history as grant funding has enabled the theatre's first in-house production in three years.
The Monument Trust has awarded NPT £150,000 over three years to help develop new work.
Red Riding Hood, directed by Peter O'Rourke, is an adaptation of the classic folk tale and opens this month.
The theatre faced closure in 2008 when Arts Council England withdrew funding.
"It was a hugely uncertain period and we had to cut our cloth considerably - to stop producing in-house, touring and cut staff," said general manager Ian Woods.
"But the support of the Norfolk people enabled us to keep the doors open and increase the use of the building by diversifying into other art forms like music and burlesque, this allowed us to build the foundation for our future.
"We always wanted to once again become a producing and touring theatre and secured a production grant from the Arts Council in 2010. This gave the The Monument Trust confidence to invest in us until 2013/14."
Spitting Image
Mr O'Rourke is one of the hundreds of puppetry professionals to have begun his career in Norwich.
He has since worked as a puppet-maker with many renowned companies including Spitting Image.
"I got my first job in puppetry at Norwich Puppet Theatre nearly 30 years ago so I was very excited to be invited back to direct and design this year's Christmas show," he said.
"We are in the middle of rehearsals at the moment and the puppeteers [Shane Connolly and Zannie Fraser] have a lot to take on board.
"The team at the Norwich Puppet Theatre is making us very welcome."
With investment secured, Red Riding Hood signals a new phase in the life of NPT - one of only two theatres in England dedicated to puppetry.
"We are immensely excited about the coming years during which we intend to build on our reputation and experience to become recognised not only as an asset for Norwich and the region, but also as a centre of excellence for puppetry nationally and internationally," said director Joy Haynes.
Red Riding Hood opens with a gala performance in Norwich on Saturday and runs until 31 December 2011. It will then be performed at the Little Angel Theatre, London, before touring the UK.