Norfolk police 'committed' to safer neighbourhood teams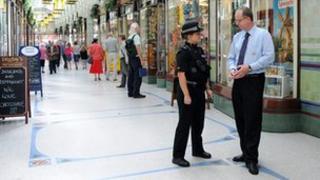 Police in Norfolk have said safer neighbourhood teams (SNTs) are to remain the "bedrock" of policing despite cuts due next year.
The number of SNTs in Norwich will change from seven to four.
There will be a loss of 31 senior staff, but no beat officers will be cut.
Deputy chief constable Simon Bailey said the force remained committed to local policing.
He said: "The number of officers on the streets is not going to change."
Norfolk Police said estimated changes to local policing would save £1.6m, part of its efforts to save £25m over the next four years.
"The whole of the modernisation programme has been based upon a commitment to maintain SNTs and, as far as possible, maintain that visible presence in communities which our front line staff are so good at providing," said Mr Bailey.
"Every neighbourhood in the county will have dedicated beat managers, dedicated police community support officers and together they'll deliver the neighbourhood response to community needs."