Dereham Recycling Centre opens for business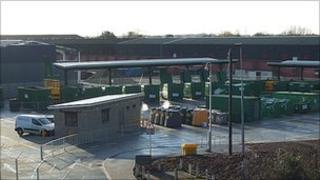 A new £1m household recycling centre has opened in Norfolk.
The centre in Dereham is designed to deal with 6,000 tonnes of householders' rubbish each year and recycle over 70% of it, Norfolk County Council said.
The facility increases the county's network of recycling centres to 20, one of the most extensive in England.
County councillor Bill Borrett, responsible for environment and waste, said the site aimed to boost recycling and divert waste from landfill.
"It is a vital part of our waste strategy for Norfolk," said Mr Borrett.
"This will help avoid spending so much of Norfolk's council taxpayers' hard-earned cash on huge landfill costs and, instead, use it to protect other vital frontline services.
New facility in 2013
"This strategy also includes plans for a brand new recycling centre to replace the old facility in Thetford.
"This proposal recently been granted planning permission and we are now working on a programme that will see a new facility open early in the New Year 2013."
The Dereham site was opened earlier by George Freeman MP, Mid-Norfolk.
"It's a top class facility that thousands of householders in Mid-Norfolk will welcome," he said.
"This is also an excellent example of the public and private sectors working together to successfully deliver important new infrastructure."
The new centre includes a Reuse Shop that accepts good quality household items and sell them at car boot prices. A proportion of the profits are used to generate grants of up to £500 to support local community projects.
The facility will be open seven days a week.