Cromer dippers raise £4,000 for The Big C charity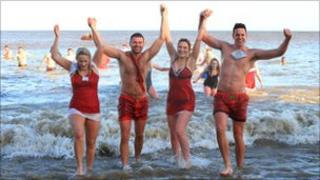 The 2011 Boxing Day dip at Cromer has been heralded by organisers as the most successful in the event's history.
More than 200 people entered a bracing North Sea for the 26th annual dip, raising more than £4,000 for the Norfolk cancer charity The Big C.
"It's amazing people can be so generous in these hard financial times," said community fundraiser Diane Northway.
Organised by the North Norfolk Beach Runners, the event was dedicated to the memory of regular dipper Jeff Dodds.
Mr Dodds, 50, from Holt, died from a brain tumour in July.
"We've held the event in Jeff's memory this year, he was always a great supporter of the dip," said Clive Hedges, from North Norfolk Beach Runners.
"I can honestly say this year was the busiest I have ever seen it, both with spectators and dippers.
Support for patients
"From comments I was listening to I think even more people will be up for it next year. Mind you, it helps having a mild day. The weather will have made a difference to those sitting on the 'should I do it or should I not' fence."
A bucket collection on Boxing Day raised £2,186 for The Big C, with Richard Howitt MEP raising £2,100 to date from sponsorship for his inaugural dip.
Organisers had hoped to raise at least £2,000, but ended up raising more than double.
It costs The Big C £1.7m per year to run services which include medical research, equipment, support and care for patients and their families.
The North Norfolk Beach Runners nominate a different charity each year to benefit from the dip.