Strong winds damage mobile homes in Great Yarmouth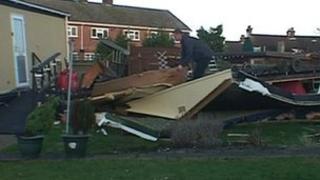 A mobile home has been destroyed and several other properties damaged by strong winds in Great Yarmouth.
Severe weather conditions have been described as a mini tornado by residents at the mobile home park at Cobholm.
Resident Dawn Moore said she felt lucky to be alive as she was not inside when her home was flipped over by the wind.
The caravan was wrecked when it was lifted from its footing by a freak gust.
The incident came as strong winds and torrential rain hit many parts of the UK on Tuesday.
"I just got a call from the site owner to say that the caravan had gone," said Ms Moore.
"I thought it might have moved a few feet, not as far as that - it's been absolutely demolished.
"I think I'd have been dead if I'd have been stuck in the middle of it."