JC Harrison watercolours set for Bonhams' auction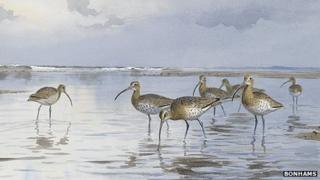 One of the largest private collections of watercolours by Norfolk bird painter JC Harrison is to go under the hammer.
The work, which features more than 150 pieces, was collected by wildlife photographer Terry Andrewartha, who worked for the TV programme Survival.
John Cyril Harrison is known for his artworks which capture the movement of birds in flight. The paintings include curlews, ptarmigan and golden plovers.
The collection will be auctioned by Bonhams in London on 25 January.
Game birds
"Harrison's work has appeared a lot at auction in the last 20 years, but it's unique to see this many high-quality works by the artist in one collection," said Peter Rees, Bonhams' specialist in 19th Century paintings.
"A great deal of the work is untitled, but a vast majority - particularly those of game birds - were painted in Norfolk.
"He also painted work for the Norfolk Naturalist Trust [now the Norfolk Wildlife Trust] for their Christmas cards featuring birds like whooper swans and waxwings."
Mr Andrewartha met JC Harrison, a prolific ornithological painter, in the late-1970s. They both lived in Norfolk and remained good friends until Harrison's death at the age of 87 in 1985.
"Harrison worked almost exclusively in watercolours," said Mr Rees.
"It's a very difficult medium to work in, particularly on a large scale, in which to get a level of detail which shows what a craftsman he was.
"He settled in Norfolk very early in his career, but travelled a great deal to produce an extraordinarily large body of work featuring a huge variety of species."
Highlights from the collection will be on public view on 11 January at Bonhams in Bury St Edmunds.