Ex-Great Yarmouth Town FC chairman admits board 'neglect'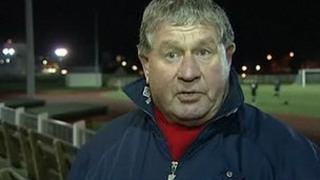 A board member of Great Yarmouth Town Football Club has admitted the committee was "neglectful" in the way it ran the debt-stricken business.
Arthur Fisk, former chairman at the Norfolk club, said behind the scenes they could be accused of "not doing as much hard work as we should have done".
However Mr Fisk said a new sponsor had come forward that offered a "glimmer of hope" to the club.
It is facing debts between £1,000 and £5,000, Mr Fisk said.
The Bloaters, who play at The Wellesley on Sandown Road, are bottom of the Ridgeons League Premier Division, having lost 21 out of 25 matches.
Great Yarmouth did not show up for a game with Wisbech last month because of an "internal issue", according to club manager Mike Derbyshire.
In 2010, seven players and the manager did not turn up to a match in a row over expenses.
Mr Derbyshire, who said he was having to use many youth players in the first team squad this season, said there was "something going wrong with communication and the set-up at the club".
A campaign, Help Save The Bloaters, has been organised by fans, calling for more volunteers to help out on match-days and seeking new sponsors.
Mr Fisk, who was club chairman until 2003, said: "We have a sponsor coming forward to give us a bit of substantial money - it's not enough, but we'll certainly want to build on that."
He said the sponsor would be unveiled on 9 January and that the club would also be approaching local Premier League side Norwich City to ask for financial help.
He added: "The history of Yarmouth Town is such that we will not let the club die."