Twins retire at Norfolk and Norwich University Hospital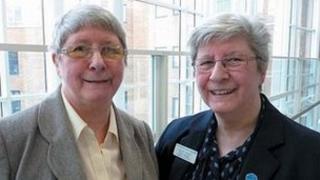 Twin sisters have retired after serving a combined 63 years at a Norfolk hospital.
Marion Baxter and Margaret Askew, 65, worked their last days as office manager and secretary at the Norfolk and Norwich University Hospital on Friday.
The sisters, from Norwich, were thrown a special retirement ceremony at the hospital to celebrate their service.
Mrs Baxter said she now planned to undertake volunteering work.
"As children we dressed alike and were encouraged to do everything together," said Mrs Baxter.
"Our father suggested we trained together as secretaries because we'd never be out of work.
"It turns out he was right."
Mrs Baxter started work as a clerk typist in the hospital's pathology department in 1966.
She went on to become the office manager in the Medical Illustration unit.
Staff confused
Mrs Askew began work in the hospital's radiotherapy unit in 1992.
The pair said other staff would sometimes be confused by their similar appearances.
"I used to walk down the corridors in the old hospital and people would pass me and say hello," Mrs Askew said.
"Because I knew my sister had been there a long time, I used to just acknowledge them and smile and carry on."
Mrs Baxter's daughter Andrea continues to work at the hospital as an administrative assistant.