Thetford biomass renewable energy plant turned down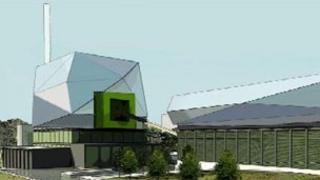 Plans for a renewable energy plant burning wood and dried grass have been refused by Norfolk County Council.
Proposals for the biomass plant at Thetford were made by Energy Power Resources Limited (EPRL).
Increased CO2 emissions from bringing in waste fuel for the plant by road from outside Norfolk was among the reasons for rejecting the plans.
An EPRL spokesperson said the company is "disappointed" at the decision and considering their next cause of action.
"After four years of developing this particular project, we are naturally disappointed that the planning committee has seen fit to refuse this application," said EPRL's business development manager Gary Coombs.
"We worked with several planning officers from Norfolk County Council over this period and considered and implemented a number of suggestions made by them, particularly in respect of landscaping and design."
The proposed site at Munford Road, Thetford, would have provided 40MW of renewable energy for nearly 70,000 homes.