BBC Introducing: Norfolk bands attend Masterclass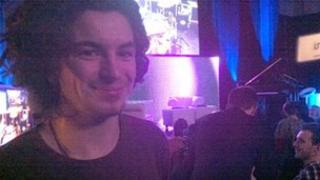 Norfolk bands said they gained top advice from some of the biggest names in music at the BBC Introducing Musicians' Masterclass.
Acts including Solko and Deers said they revelled in the chance to meet some of their favourite celebrities and network with industry experts.
"It was really good to meet people who I would never have normally met," said Ashley Woolnough from Solko.
The event took place in London on Thursday.
A handful of other artists such as Kamilla Lovett were also picked to attend the event by local radio show BBC Introducing in Norfolk.
The artists attended workshops and talks at the Abbey Road and Maida Vale studios and met famous faces including Friendly Fires, Jamie Cullum and Wretch 32.
'Many celebrities'
BBC DJs Zane Lowe, Jo Whiley and Steve Lamacq also conducted question-and-answer sessions.
Woolnough, frontman of Solko, said he managed to meet Richard Russell of XL Recordings and gave his band's CD to Lowe.
"It was great to network. I had a fair few CDs in my hand," he said.
"It was just surreal to see so many celebrities."
Norwich band Deers, whose guitarist Steve Larke also attended the event, said on their website that he had had a "truly amazing experience".
Photographs and video sessions of the day have been posted at BBC Introducing.