Walpole St Peter's Church granted £20k by church trust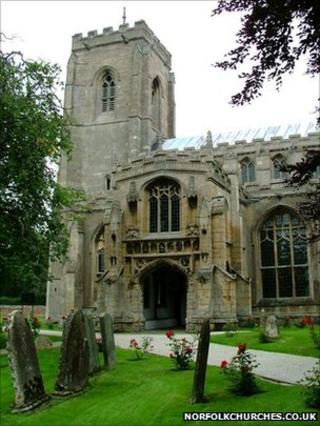 A west Norfolk church, supported by Prince Charles, has been awarded a major grant for vital roof repairs from the National Churches Trust charity.
The Church of St Peter, in Walpole St Peter near King's Lynn, has been given £20,000 for repairs to the chancel.
Churchwarden Michael Anstey said: "The grant will help ensure the church will remain open for generations to come."
The grade 1 listed church, built in the 14th Century, is popularly known as Queen of the Marshlands.
"The chancel is magnificent in this church, but because it's such a big roof and so high, it's restoration is a very expensive process," said Mr Anstey.
"The chancel roof is a £200,000 project in total. We'll be receiving a grant for about half of that from English Heritage, but we're having to fund in excess of £50,000 ourselves from additional grants and donations."
Royal support
The church's roof appeal has received the personal backing of the Prince of Wales, who has regularly visited the building and contributed to its repair.
His support continues a royal tradition, with the church having previously received personal support from King Edward VII, Queen Mary, King George VI and the Queen Mother.
The chief executive of the National Churches Trust (NCT), Claire Walker, said: "I am delighted the trust has been able to support these vital repairs to one of England's most important parish churches.
"Walpole St Peter is a shining example of the best of our nation's heritage and we have been able to recognise that through the award of one our larger grants."
Built around the 1340s, St Peter's was funded from money generated by the wool trade.
"St Peter's was built at a time of great prosperity in the area," said Mr Anstey.
"There is no longer the wool trade here, but the church remains a wonderful example of our heritage. It is now just hugely expensive for a small village to maintain on its own."