Franko Fraize: Norfolk rapper makes BBC Radio 1 Introducing playlist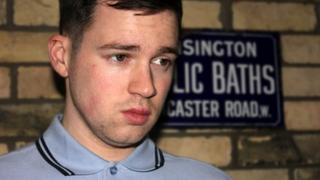 A rapper from Norfolk is to step under the UK music spotlight after national BBC Radio 1 is set to showcase his track Watch How I'm Moving.
Franko Fraize, 26, from Thetford, will be featured on the station's playlist for a week from Monday, 23 January.
The song was selected after being nominated for the network by new music radio show BBC Introducing in Norfolk.
He said: "To have a Radio 1 play is an absolute honour... it's something I'm really excited about."
Franko, aka Frankie Dean, found out about his playlisting back in December. It took some time before he believed what was happening.
"When I first got the email I weren't sure if somebody was winding me up, but yeah it was all legit," he said.
'Absolutely buzzing'
"I was sitting at home when I got this email and it said 'your track's been selected to be played on Radio 1 - Fearne Cotton and all of that', I was absolutely buzzing.
"The stuff that could come off the back of it is something I'm really excited about. Fingers crossed something after this can start snowballing and you'll hear a little bit more about me.
"Regardless of what happens I'm definitely going to be pushing independently harder than I ever have before. 2012 is about focussing on doing things properly.
"The next track I'm going to approach like a single, even if there's nobody backing it label wise or anything, it's all about taking it to the next level."
Franko Fraize is following in the footsteps of Norwich artist Context who also recently secured a Radio 1 playlist slot thanks to the BBC's support for new music.
"It's great to see Context MC has done well and brilliant he's come through the same BBC Norfolk channel," said Fraize.
"I must say a massive thank you to the BBC Introducing in Norfolk team as the work they do is unbelievable.
"They've been nothing but support for me and the help they can offer to Norfolk artists is amazing."
BBC Introducing in Norfolk airs on Friday nights at 19:00.