Norwich City Council questioned over firm contracts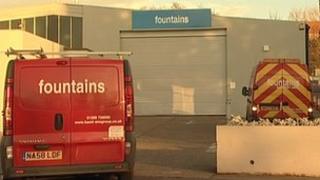 A Norwich MP has questioned the city council's handling of contracts after two firms stopped running services in the city due to financial problems.
Fountains, which ran street cleaning services in the city, is in administration and Connaught stopped running similar services in 2010.
Chloe Smith said Fountains' closure was "extremely concerning".
The council said a company's health was checked "very carefully" before contracts were awarded.
Up to 153 jobs could be lost in Norwich following the administration of Fountain Group, based in Oxfordshire.
Three hundred jobs were lost when Connaught hit financial problems.
'Raises questions'
Ms Smith, the Conservative MP for Norwich North, said: "For the long term this really does raise large questions about the way these contracts have been managed.
"The question that Norwich residents will be asking is will they trust the city council to manage those services.
"I do also think there are questions about how this is best being handled for those staff who were very tragically told about the news."
Alan Waters, Labour deputy leader at Norwich City Council, said companies all went through the same procurement process before being offered a contract, but predicting their future outlook could be difficult in the current economic climate.
"What looks healthy and strong at the beginning of the contract, in this uncertain economic climate, you cannot guarantee for the future," he said.
"This has been a shock to everybody and scanning the financial pages there's been no evidence that people were picking up an issue around Fountains.
"I think we have to frame it more widely and this is the world we are now living in."
Mr Waters said emergency cover was in place to ensure services previously controlled by Fountains continued without disruption, including waste collections.