Thetford Academy has new building approved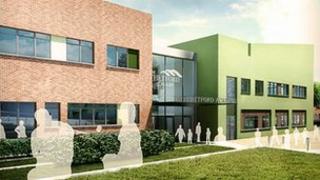 Planning permission has been granted to build a new main school building in Norfolk.
Thetford Academy said it would be constructed from March, next to its north campus at Croxton Road.
It will include a library, IT suite and specialist areas for design technology, science and music.
The school's south campus on Staniforth Road will no longer be used. Lead sponsor David Lawrence said it was important to have a single site.
"It has been a long process but now we are so much closer to the one site for the academy and the provision of a wonderful new learning environment," said Mr Lawrence, who is also principal at Easton College near Norwich.
A new sports hall and a separate sixth form centre will also be constructed, along with refurbishment to the existing north campus.
The new building is expected to be ready for the 2013 academic year and increase the school's potential capacity to 2,050 students. Currently 1,400 pupils attend.
Thetford Academy opened in 2010 following the merger of Charles Burrell and Rosemary Musker high schools.