Denver Mill awarded restoration grant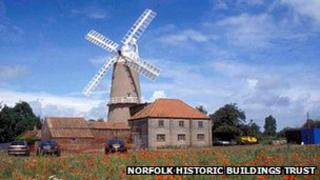 Restoration of a 19th Century windmill in west Norfolk has been given a £15,000 boost by the Garfield Weston Foundation.
Denver Mill, near Downham Market, requires £100,000 in order to restore the sails and wind gear.
The mill, built in 1835, is owned by the Norfolk Historic Buildings Trust.
Trust secretary Dr Douglas Munro said: "Denver Mill is an important part of Norfolk's heritage and the trust wants to see it back in action."
He said of the grant: "This is every encouraging. We hope very much that other grant-making organisations will also help the trust to restore the wind powering of the mill."
A stress fracture in one of the metal stocks, the arms which hold the sails in place, broke in October 2011 causing the sails to collapse into each other. The last remaining sail was removed in January for safety reasons.
Denver Mill was the last of Norfolk's commercial flour mills still powered by the wind.
The Norfolk Historic Buildings Trust (NHBT) has played a role in restoring the Denver Mill site between 1995 and 2000, at a cost of more than £1m.
Since then the NHBT has spent more than £100,000 on repairs.
Denver Mill features in Alex Polizzi - The Fixer on Tuesday, 6 March at 20:00 GMT on BBC Two