MRI scanner a 'quantum leap' in obesity research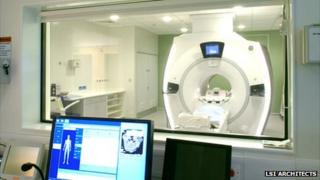 An MRI scanner unveiled at a Norfolk hospital will enable pioneering research into the causes of obesity, scientists have said.
The double-strength scanner - the first of its kind in the UK - will be used by experts at Norwich Research Park to take detailed scans of the human gut.
A professor said the equipment at the Norfolk and Norwich University Hospital was a "quantum leap" in body research.
The device scans the body using magnets rather than X-rays.
Dubbed as "one of the most powerful and patient-friendly scanners in the world", a hospital spokeswoman said it meant patients would have no side effects from using it.
She said the magnetic resonance imaging scanner would allow people who do not contain pacemakers or metal objects in their bodies to be scanned an unlimited number of times.
The device is said to have a magnetic field strength twice as great as a traditional MRI scanner.
The hospital spokeswoman said it also offered a more comfortable patient experience for those who suffer from claustrophobia, with a wider opening and an opportunity to go in feet-first.
'Never believed possible'
Consultant radiologist Dr Paul Malcolm, MRI lead at the hospital and honorary lecturer at the University of East Anglia, said the scanner would perform an important function in discovering how the human gut works.
"Imaging of the gut without the need for X-rays is increasingly important in understanding how the gut and digestion works," he said.
"The ability to assess fat in the liver and other tissues with MRI is essential as we try to understand and tackle the problems of obesity."
Professor Andrew Stewart Coats, chief executive of Norwich Research Park, said the technology would allow scientists a greater insight into how the functions of the body go wrong, to an accuracy "never believed possible before".
"With the technology to visualise the interaction between drugs, food and bacteria in the gut, this really is a quantum leap in our ability to understand how we can maintain healthy bone and muscle as we age or develop chronic diseases," he said.
The scanner is contained in the Norfolk and Norwich University Hospital's new Clinical Imaging and Research Centre, which was officially opened on Tuesday.
The hospital predicts up to 4,000 local patients will benefit from it each year.
The centre, which will serve patients from Norfolk and Suffolk, also includes a new CT X-ray scanner.