Watchdog rejects complaints over Norfolk incinerator adverts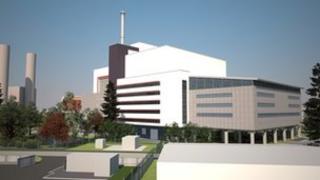 Adverts promoting a proposed £500m waste incinerator in Norfolk did not flout guidelines, a standards watchdog has ruled.
The Advertising Standards Authority (ASA) has dismissed eight complaints about two adverts and a newsletter backing the incinerator in King's Lynn.
The complaints alleged that claims about the plant's effects on health and traffic in the adverts were misleading.
But the ASA ruled the claims were justified and dismissed the action.
The ASA received the complaints about two adverts promoting the Willows Power and Recycling Centre in Saddlebow, published in June and July last year.
The authority also dismissed allegations that claims in a leaflet from Cory Environmental and Wheelabrator Technologies, the consortium behind the project, were misleading.
Complainants raised concerns over claims that emissions from the plant would be measured "24 hours a day", which objectors did not believe to be the case.
A government statement quoted in one advert saying such incinerators were monitored "all the time" was also challenged.
The ASA ruled it was clear the firm would measure everything it was legally obliged to, rather than every emission produced.
Complaints were also received over reports the proposed plant would have no "significant effect" on health or traffic, which objectors felt could not be backed up.
The ASA found there was "no credible evidence of adverse health outcomes" and the effects of the plant on traffic flow would not be "significant".