Jubilee Journalists: Norfolk search for royal reporters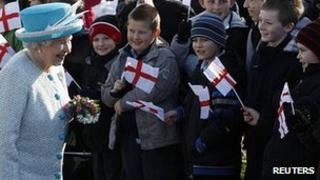 Young people across Norfolk have been invited to become Jubilee Journalists to help mark the Queen's Diamond Jubilee.
The project by Norfolk County Council (NCC) is supported by BBC Radio Norfolk and the Eastern Daily Press (EDP).
"It's about capturing the essence of the Jubilee from a young person's perspective," said Ian Mackie of NCC.
The reports will be published in a 24-page EDP supplement and broadcast by the BBC around the Jubilee weekend.
"It's an opportunity for around 20 young people to develop their journalistic skills - for them to cross the generations by speaking to their relatives and community - and record some of the events surrounding the Jubilee," said Mr Mackie.
People interested in the project need to be aged 16 to 24 and show a creative flair for story telling.
Those with the most promising ideas will learn more about journalism from staff at the EDP and BBC Radio Norfolk's Voices project.
"We want creativity, enthusiasm and ideas - the more creative their ideas, the better chance they've got of being chosen," said EDP editor Peter Waters.
"Our aim is to create a one hour radio programme," said BBC Voices producer Gary Standley.
"The most important thing is for us to hear about their lives, their feelings about the Jubilee - whether they agree with the celebrations or not. We want to hear their thoughts to create a true reflection of the Diamond Jubilee through their eyes."
Applications for the project must be made by 29 February. The work will also be showcased on the Norwich Big Screen at Chapelfield.