Occupy Norwich protest camp could stay on Hay Hill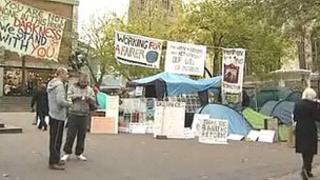 Occupy Norwich protesters are to hold further discussions to decide their next move after indicating they may stay on their Hay Hill campsite.
On Monday they agreed with Norwich City Council to vacate the city centre site, but said earlier renewed public support had given them cause for a rethink.
Protester Freddie, 28, said: "We're clearing up and sorting things out, but nothing's a definite at the minute."
The collective was instructed to leave the site by 17:00 GMT on 3 February.
Freddie said: "If we weren't getting such a good reaction it might have been taking down already, but because people are starting to know what Occupy is all about it's phenomenal - it could just be the start.
"We haven't put nothing in writing yet. The only thing we've got from them [Norwich City Council] is writing so nothing is legally binding. Words is words and talk is cheap."
Unlawful occupation
Norwich City Council's position remains unchanged and they will continue with legal action to get the protesters removed.
A council spokesman said: "Following our discussions with the protesters earlier this week, this matter remains in the hands of our solicitor so at this stage we cannot go into further details as it is now part of a legal course of action.
"We have offered the protesters the use of a stall at the front of Hay Hill for two days a week, subject to existing bookings - but this will depend on them ceasing their unlawful occupation and clearing the site of all the tents and structures.
"We are waiting to receive a formal response from the protesters about this option."
The indication to stay on the city centre site goes against an announcement published on Twitter on Wednesday when @OccupyNorwich said: "After 4 months #Occupynorwich will on Sat 11th be removing the city centre camp and begin looking forward to the next stage of our protest".