Occupy Norwich protest group issued with court notice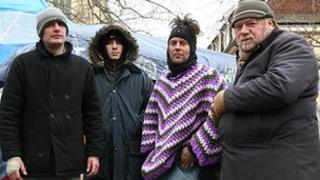 Protesters at the Occupy Norwich camp have been served with legal papers demanding they vacate the site or face court action.
Protesters at Hay Hill were given notices on Monday stating if they refuse to leave they face a legal hearing on 20 February.
Norwich City Council began legal proceedings after campaigners failed to vacate by a previous deadline.
Protesters said their next steps would be discussed this week.
Occupy Norwich began on 15 October as an offshoot to the worldwide Occupy movement.
The city council issued its first eviction letter to the camp in the city centre at the start of the month, asking them to dismantle and move on by 3 February.
Since then, the council has offered the group use of a stall at Hay Hill to carry on their protest, at their request to have a "building" to campaign in.
'Very disappointed'
However, the council said it had not received a written response from the protesters.
On Twitter last week, the group said it would start to vacate on 11 February, stating it would "begin looking forward to the next stage of our protest".
However, the group remained and the council said its solicitors would therefore continue to seek repossession of the site.
A city council spokesman said: "On 4 February, the protesters agreed unanimously to leave the site last Saturday - a decision which they publicised.
"We're very disappointed that they are continuing to trespass on the site after promising they'd leave.
"Therefore, yesterday morning (13 February) we served those present on the site with court papers seeking repossession of the land."
A statement issued on the Occupy Norwich website, on Saturday, said a working group was now taking sole responsibility of the camp and Occupy Norwich would no longer be "directly involved in the administration of the camp".
Protesters on site confirmed original members were no longer present at the camp.
One campaigner, Freddie, said he had yet to see the council's notice, and protesters would have a meeting later in the week to discuss whether they would leave before the court date.
The legal hearing, if it goes ahead, would take place at Norwich County Court.
Any protester that formally identifies themselves could face combined court and solicitor fees of £244.50.