Thousands sign Breckland parking charges petition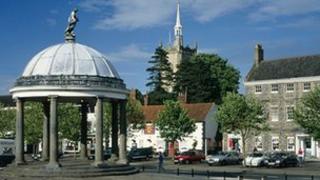 Thousands of people have signed a petition against a suggestion to introduce parking fees in Breckland.
Breckland Council revealed in December it could start charging for car parking in its market towns in a bid to save £3.5m over the next five years.
Campaigners have 10,000 signatures so far and expect this to double before handing the petition to the council.
The authority has released £25,000 for a feasibility study into introducing charges throughout its 28 car parks.
The petition against the charges was started by the Breckland Labour Group.
Their leader, Thetford town councillor Terry Jermy, said: "I'm disappointed the council's committed £25,000 to this feasibility study.
"It shows it's quite important when you commit that sum of money - but I'm hopeful we may get to a point where we all agree it's not the right way forward."
'Negative effect'
The council spends about £300,000 a year on its parking sites in Thetford, Dereham, Watton, Swaffham and Attleborough.
Mr Jermy added: "I think the main issue is that the five market towns in Breckland are the very core of what we're about as a district.
"There is no doubt if you introduce charging for car parks it will have a negative effect on foot flow and that will ultimately reduce the expenditure.
"The big concern is that it will force some businesses over the edge.
"Some of our high streets are struggling and we should helping them at the moment, not hindering them."
A spokesperson for Breckland Council said: "We are collecting the views of residents and businesses... However, carrying out the study does not mean that charges will be brought in."