Finkelgate house faces demolition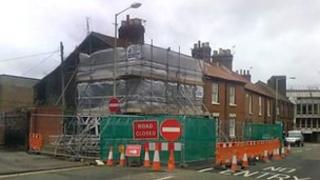 An unstable house in Norwich that has closed a city centre road for more than 13 months is due to be knocked down.
A demolition firm said it is preparing to destroy the house on Finkelgate, off Queens Road, and is waiting for final permission from the owner.
The road has been at least partially closed since Christmas Day 2010 after subsidence caused cracks in the house.
It is believed the road could be fully reopened again by May.
Finkelgate partially reopened as a one-way street in December, but scaffolding holding up the home still blocks one lane.
Four terraced houses were evacuated on the road on Christmas Day 2010 after cracks caused serious damage to number 16 the evening before.