Shouldham Hall Nursing Home criticised by CQC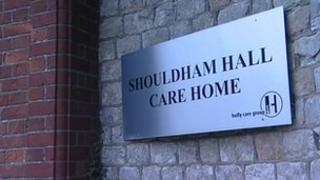 A Norfolk nursing home is failing to protect the welfare of people in its care, a report by an industry watchdog has said.
Shouldham Hall Nursing Home, near Downham Market, was found by the Care Quality Commission (CQC) to fail all nine essential quality standards.
Inspectors found mislabelled medicines, mould growing on the furniture and residents being fed frozen ready meals.
The home has voluntarily agreed to stop taking new residents.
The CQC first raised its concerns about the quality of service provided to people living at the nursing home, owned by the Holly Care Group, in March 2011.
It said compliance actions and warning notices were issued in an effort to drive improvement but, despite this, inspectors found that the service was still failing to provide adequate care.
Frances Carey, regional Director of the CQC in the East of England, said: "The failings at Shouldham Hall Nursing Home are a real concern and improvements need to be made.
"CQC has been working closely with Norfolk County Council to ensure the safety and wellbeing of people receiving this service and we have told the provider where they need to improve."
In a statement the owners of the nursing home said the inspections were "disappointing" and they were taking the findings "extremely seriously".
A spokesman for Norfolk County Council said: "We have been aware of concerns about the care provided at Shouldham Hall since the middle of last year and have been working with the home to address these ever since.
"The company has also brought in a specialist care consultancy agency to provide support and advice in order to bring about the necessary improvements.
"We are monitoring the quality of care at Shouldham Hall very closely and both health and social care professionals have been regularly reviewing residents and making visits, and we are also in touch with relatives of its residents."