Demolition work begins on fire-hit Gray's Arcade at Wells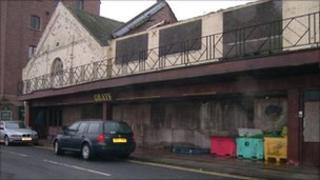 Demolition work has begun at an amusement arcade in north Norfolk that was gutted by a fire seven years ago.
Two applications to turn Gray's Arcade at Wells-next-the-Sea into shops, a cafe and flats were approved by North Norfolk District Council in June.
The first development is expected to be completed by January 2014, its owners Novus Homes said.
The second stage is due to be finished in one year's time, its architects confirmed.
The fire at the arcade in 2005 took 70 firefighters three hours to put out, with arson ruled out as the cause.
The first application by Novus Homes will see three shops, an office and nine flats occupy part of Gray's Arcade.
The second set of plans, by a different owner, will turn the former shop site into a cafe and shop unit, three flats and a maisonette.
Steven Dunn Architects, behind the second application, said it hoped its development would be fully completed in a year's time, allowing for minimal disruption during the summer tourist season.