Council tax frozen in Norwich City Council budget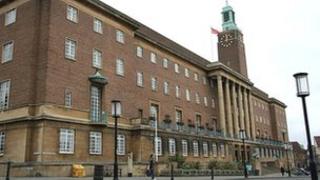 Norwich City Council is to freeze its council tax next year, it has been announced.
The approval was given by councillors at City Hall as part of the £20.7m budget for 2012-13.
The authority, however, said it would make £5.9m worth of back-office and service cutbacks, including cuts in areas such as festive lighting and public toilet maintenance.
It added that no jobs would be made lost as a result of the new budget.
Last week Norfolk County Council said it was also freezing its rate of council tax.
On Tuesday Norfolk Police Authority said the police precept would increase by 3%, which would amount to a 0.4% rise in the public's overall tax bill.