Titian masterpiece Diana and Actaeon at Norwich Castle Museum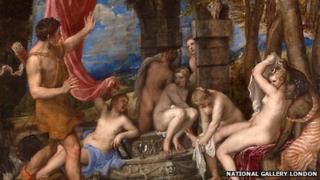 A celebrated Titian masterpiece, saved for the nation after a £50m public fundraising appeal, is to go on show in Norfolk.
Diana and Actaeon will hang at Norwich Castle Museum, the only regional venue to display the work in 2012.
Titian, a Venetian artist, completed the piece in 1559 as a commission for Spain's King Philip II.
County council spokesman James Carswell said: "It is a privilege to bring this extraordinary painting to Norfolk."
Diana and Actaeon is part of a series of six large-scale mythology paintings that Titian painted in Venice during the 1550s.
It is considered to be one of his finest works because of its ambitious scale, its unity of colour and subject matter and its historical importance.
Heather Guthrie, exhibitions officer at the museum, said: "It's a fabulous masterpiece.
"It has a wonderful mesmerising effect about it and I think that's one of the reasons it's been such an inspiration for so many artists throughout the course of history. We're jolly lucky to have it here."
Diana and Actaeon was put up for sale in 2008 and became the subject of ahigh profile campaignto save it for the nation.
'Sexy mythology'
It was bought for £50m by the National Gallery and National Galleries of Scotland with contributions from the Scottish Government, National Heritage Memorial Fund, The Monument Trust, The Art Fund and the public.
Vanessa Trevelyan, head of Norfolk Museums and Archaeology Service, said: "Titian was renowned as a painter of sexy mythology pictures during his lifetime.
"Ever since Diana and Actaeon came to Britain in 1798, it has been a powerful source of inspiration for artists.
"The painting was bought by the Duke of Bridgewater, whose descendants made it available to the public and sold it to the nation in 2008.
"It is a real privilege to be invited to show this important work, and we are enormously grateful to the National Gallery for offering us this unique opportunity."
Widely considered to be one of the most important paintings of the Italian Renaissance now in public ownership in this country,Diana and Actaeonis based on the poem Metamorphoses by the Roman poet Ovid.
Exhibition officer Heather Guthrie said: "In Victorian times, paintings were shown in public as a real spectacle and people would queue around the block to go and see a painting by a particularly well known artist as it was the best picture show in town.
"I don't know if we'll have the queues around the block, but it's a unique opportunity to see this painting by one of the world's great artists and to really try to come to an understanding as to what makes this such a fantastic painting."
On Friday, the sister painting to Diana and Actaeon -Diana and Callisto- was purchased for the nation after a £45m ($71.7m) deal was agreed with owner the Duke of Sutherland.
The "supremely important" oil painting was bought with the help of £25m ($39.9m) from the National Gallery after a lengthy fundraising campaign.
Titian's Diana and Actaeon can be seen at Norwich Castle Museum until 15 April.