Great Yarmouth coastguard meeting to fight closure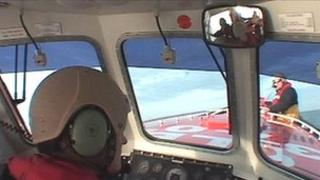 A public meeting calling for the government to reverse plans to close a Norfolk coastguard station is to be held in Norwich.
Great Yarmouth's coastguard base was designated for closure last summer, with the potential loss of 25 staff.
Norfolk coastguard volunteers and harbour users at Great Yarmouth are expected to attend the County Hall meeting on Monday evening.
In January, Norfolk County Council said it would campaign against the closure.
Plans to close the station as part of the government's modernisation of the coastguard network were announced in the Commons by Transport Secretary Philip Hammond in July.
County councillor Paul Rice said although a date for the closure of Havenbridge House had yet to be set, it could shut as early as next year.
'No sense'
If the base was to close, about 25 full-time jobs at Yarmouth's Maritime Rescue Co-ordination Centre (MRCC) would be lost, a Maritime and Coastguard Agency (MCA) spokesman said.
He said the response side of the operation, which includes volunteer lifeboat service members, would be unaffected.
Mr Rice said the meeting would look to gather support from Norfolk's maritime groups and business leaders at Great Yarmouth's harbour, to build a campaign to lobby the minister.
He said alternative plans would also be discussed, including moving the coastguard to a new building that could also house customs and immigration officers, which may be needed upon the expansion of offshore industry at Great Yarmouth.
"The purpose of the meeting will be to get those interested together and decide on the best way to take our campaign forward," said Mr Rice.
"Local knowledge saves lives. There are numerous examples of where this is the case, including only last year when local knowledge helped save the life of a girl buried in the sand [at Caister-on-Sea].
"What makes no sense either is that there is every likelihood of an increase in demand with more traffic to wind farms, ship-to-ship oil transfer off the Norfolk and Suffolk coast and increased traffic from Harwich to Zeebrugge.
"You can also add the fact that there is a big increase of 'staycations' on the Broads and local beaches to the mix."
The meeting takes place at 18:00 GMT.