Unison holds rally in Norwich against NHS changes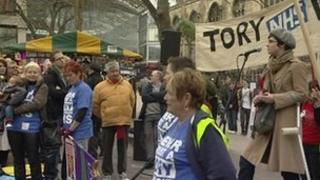 About 300 people gathered in Norwich on Saturday in a rally against the Health and Social Care Bill.
MPs and union members addressed a crowd at Hay Hill in an event organised by Unison, which opposes the changes.
The bill aims to give GPs control of budgets and create competition.
Among the speakers were Unison members; city councillors; Chloe Smith, the Conservative MP for Norwich North, and Clive Lewis, Labour's parliamentary candidate for Norwich South.
Jo Rust, from Unison, told the BBC her husband had diabetes and would not be able to receive the treatment he currently gets if the bill goes through.
"Unison might be considered to have a vested interest, but we are all ordinary people and we will be affected," she added.
Under the £1.4bnHealth and Social Care Bill, GPs and other clinicians will be given much more responsibility for spending the budget in England, while greater competition with the private sector will be encouraged.
Ms Smith spoke in support of the bill but said she wanted to hear different views on the measures.
Ministers believe the changes are essential to allow the health service to become more efficient.
Without change, the government argues, services would increasingly have to be rationed in the future.
Activists say the controversial shake-up of the NHS in England has failed to win over the public and health professionals and would be disruptive at a time the NHS is having to make big savings.
Unison, which also held an event in Harlow, Essex, on Saturday, is planning a rally in London as the bill reaches the report stage in the House of Lords.