Emergency repairs set for medieval Norfolk gatehouse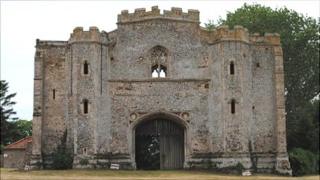 A medieval gatehouse in Norfolk is set for emergency repairs after English Heritage granted nearly £200,000 towards the project.
The Grade I-listed structure at Pentney Priory, near King's Lynn, is at risk of collapse.
Temporary scaffolding has been put up to brace the unsupported external walls.
Greg Luton, of English Heritage, said: "Saving this remarkable medieval gatehouse is a top priority."
The work on the gatehouse will cost £253,000. The owners will fund £55,000 of the repairs, with the remaining £198,000 coming from English Heritage.
The gatehouse has been on theHeritage at Risk registerfor a number of years.
'Wonderful asset'
Mr Barber, owner of Pentney Priory, said: "The future is secure for this nationally important structure.
"We are convinced that it will prove to be a wonderful asset for the community in west Norfolk and will be enjoyed by everyone who has an interest in our rich heritage.
"Without the support and encouragement of English Heritage, this building would have been lost to future generations."
The repairs mark the first phase of a wider restoration project at the site, beginning with the construction of a temporary roof. Masonry work will also take place.
Will Fletcher, inspector of ancient monuments for English Heritage in the east region, said: "This was the last chance to save this important building.
"Without it, we felt the gatehouse wouldn't have survived another winter.
"It's the only medieval building left standing on the site of the priory where there was once a huge church and cloisters.
"Its condition is of great concern but the fact it's intact with all its architectural features makes it incredibly rare and worthy of preservation."
Founded in about 1130 by Robert De Vaux, Pentney Priory was one of the wealthier monastic communities in Norfolk.
The priory was dissolved in 1537 by Henry VIII and sold to the Earl of Rutland.