U-turn in north Norfolk Dudgeon wind farm cable decision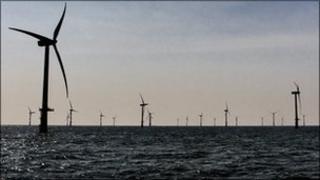 A district council has reversed its decision to refuse planning for a cable corridor through Norfolk to connect an offshore wind farm to a substation.
In January, North Norfolk District Council declined Warwick Energy permission to lay 28 miles (45km) of cable from Weybourne into Breckland.
The plans for the Dudgeon wind farm cable were rejected by councillors over environmental concerns.
After the company appealed, the council voted to reverse the decision.
Councillors were initially advised by officers to approve the plans because they were considered better than having overhead pylons.
Susan Arnold, development committee chairman at the council, said permission was granted but it was based upon "very stringent conditions" that would see "limited disruption to the landscape" and any trenches filled in as quickly as possible.
The cable trenches could be up to 40m (131ft) wide. The work would affect about 50 farmers.
William Runciman, from Fulmodeston, who would see up to 10% of his farm disturbed by cabling work, previously said to the BBC: "The land would be restored, but it's never, ever going to be in the same condition that it is now."
Breckland Council has approved the section of cable that would run through its constituency, but has yet to agree on a final location for the substation that would connect the Dudgeon wind farm to the national grid.
Plans to build one at Little Dunham were refused in October 2010 and an appeal last year was dismissed.
Warwick Energy is taking the case to the High Court, which is being heard on 23 March.
If it fails, the company said it would look to build a substation on the outskirts of nearby Necton.