Third arrest after man killed at Herbie Hide's home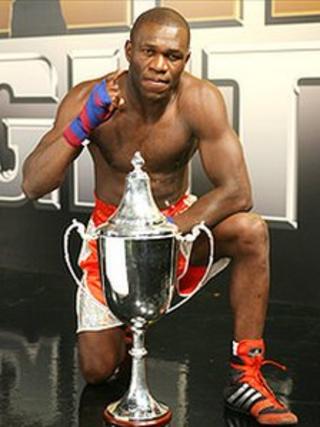 A third person has been arrested on suspicion of murdering a man at the Norfolk home of former boxing world heavyweight champion Herbie Hide.
Tafadzwa Kahn, 25, of St Giles Street, Norwich, died from a stab wound at the house in Long Lane, Bawburgh, near Norwich, on Sunday morning.
Two men, aged 18 and 20, both from the Norwich area, were arrested on Tuesday.
The first person arrested, a 16-year-old boy, has been released on police bail pending further inquiries.
Detectives said the stabbing followed an argument at a party in the house.
'High visibility patrols'
The property remains sealed off while a forensic examination is carried out.
Police said they would continue to provide high visibility patrols in the area to reassure residents.
More than 100 people were at the party at the time of the stabbing.
Police said earlier they were "fairly certain" Mr Hide was not on the premises at the time of the stabbing.
Mr Hide told the BBC on Monday: "The reality of this right now is a man is dead. Imagine this - a lady was told her son has gone. Imagine that."
A spokesman said a post-mortem examination found the cause of death was a stab wound to the body.
Mr Hide and his family are living elsewhere while investigations at the house continue.
Mr Hide won the WBO (World Boxing Organisation) heavyweight title for the first time in 1994, beating American Michael Bentt, but lost it to another American, Riddick Bowe, the following year.
He regained the title in 1997 and made two successful defences before losing to Vitali Klitschko in 1999.