Rose Lane trial: World of 'fear on every corner'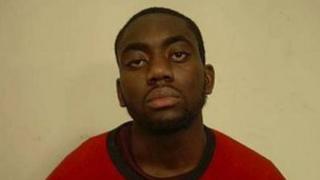 The Rose Lane murder trial uncovered the murky and violent underworld of drug dealing in Norwich, and the twisted allegiances and intimidation that exists within criminal gangs.
All the men involved in the case lived cheek by jowl in a "suffocating" atmosphere in Newham, east London, where there was "fear on every corner", the jury was told.
In February 2011, a rival group, JJ, dared to cross Newham's GBen drugs gang and rob and attack one of its members.
It led to a revenge plot and, some 24 hours later, the brutal murder of Honorato Christiovao in a car park more than 100 miles from the capital.
Spencer Yiadom, the 22-year-old ringleader of GBen, inflicted blows to Mr Christiovao's head with a heavy object in a sock or glove.
'Remarkably uncurious'
Soon after the murder trial began, he changed his plea and admitted murder - but the jury was still tasked with seeking the truth from two co-accused who were both in the car park, but claimed not to have been involved or know anything of Yiadom's fateful plan.
Anton St Paul told the court he believed they were meeting a man for a drug deal, that he had seen the brutal beating but done nothing about it, and was under the grip of the "threatening" Yiadom.
Anthony Obariase, who lives with his parents and had used his mother's Toyota to drive four members of a drugs gang to Norwich that night, also claimed he knew nothing of the revenge plot. The jury believed him and acquitted him of murder.
Prosecutor Simon Spence said the men were "remarkably uncurious" during the car journey and had apparently put forward a defence of "see no evil, hear no evil and do no evil".
The prosecution's case was that 22-year-old St Paul, rather than fearing Yiadom, was a trusted ally and drugs money courier who was well aware of the intention to cause serious harm to Mr Christiovao.
'Lured to car park'
Before the attack, Mr Obariase drove four men to the home of prostitute and drug user Lucy Browne, in a suburban area of north Norwich.
Browne was vital to the plan, and made a phone call to lure Mr Christiovao's girlfriend Sharon Hodgson to the car park, claiming that someone wanted to buy drugs from her.
Browne was due to stand trial with Yiadom, Obariase, and St Paul, but her guilty plea to manslaughter was accepted and the would-be defendant became a witness.
Police said her statement helped them build a picture of what happened that night.
Once the phone call was made, one of the men stayed with Browne while the others went to Rose Lane and waited for their prey.
Ms Hodgson appeared with Mr Christiovao, who wanted to protect his girlfriend after she had been robbed earlier that day.
She was grabbed but managed to break free and call 999, but Mr Christiovao - described by police as vulnerable and frail - was struck by devastating blows from Yiadom.
Went to police
The men left him dying in the car park, picked up their associate at Browne's house then drove back to London.
Once there, Yiadom sent Browne a text stating "Safe. Thanks Lucy."
Mr Christiovao died in hospital two days later.
Det Ch Insp Jes Fry said officers faced a "very difficult situation" of trying to identify those involved and the relationship between them, especially when dealing with people who did not want to speak to police.
Mr Obariase's phone had been used during the incident, which helped lead to his arrest and the analysis of mobile phone records which played a key part in the investigation.
St Paul claimed it was Mr Obariase's arrest on suspicion of murder that shocked him into going to police in March 2011.
He caught a train to Norwich and turned up at Bethel Street police station - where he was also arrested on suspicion of murder.
Spoke to mother
The jury was told his defence was due to be that another man had rained the blows on Mr Christiovao, but that this suddenly changed to Yiadom.
St Paul, whose pregnant girlfriend was in court throughout the trial, claimed he had feared for the safety of his younger brother if he told the truth about Yiadom but had got the courage after speaking to his mother.
A written testimony by Newham councillor Bryan Collier described St Paul as a member of the Volunteer Support Service and a "well mannered young man" with a keen interest in local politics, while the jury heard several positive character references for Obariase.
The jury believed Obariase, who remained in the car during the attack, and acquitted him of murder.
But the jury gave short shrift to claims that St Paul went on the trip to Norwich with Yiadom due to a "lack of moral courage".
Ultimately, they decided St Paul was as guilty as GBen leader Yiadom in bringing the culture of fear, violence and murder to Norwich.
Det Ch Insp Jes Fry said that those involved in the gangs had now been caught, with most receiving "substantial" prison sentences.