Funding plans for Norfolk sports car maker Group Lotus 'on hold'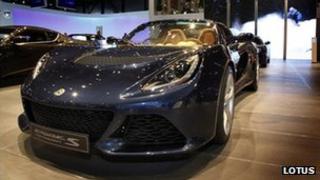 Plans for £10.4m of government funding for sports car maker Group Lotus have been put on hold while its new owner makes a decision on its future.
Norfolk-based Group Lotus was promised regional growth funding last October when its then owner Proton announced plans to create 1,000 jobs.
Earlier this year Proton was acquired by Malaysia's DRB-Hicom.
Business minister Norman Lamb said the funding was on hold, but the government was still committed to Lotus.
Mr Lamb, Lib Dem MP for North Norfolk, said: "Everybody wants to ensure this company remains in operation in Norfolk.
"The government and my department are in close contact with the company and monitoring the situation.
"I am incredibly keen to see that jobs remain in Norfolk. It is incredibly important to the Norfolk economy."
He added that the government was committed to using the regional growth funding to help Group Lotus if its plans for extra jobs in the county proceeded.
'Historic link'
Group Lotus said it did not wish to comment on these developments, but last week a spokesperson said: "The new Proton owners DRB-Hicom are currently in the middle of their due diligence of Group Lotus.
"There have been and continue to be positive discussions between Group Lotus senior management and senior management at DRB-Hicom both here in Hethel and in Malaysia.
"Despite various rumours in the media to the contrary, at no point has DRB-Hicom indicated to Group Lotus that they intend to put the company into administration and we welcome the opportunity to put that rumour, along with incorrect speculation that production has stopped, that Dany Bahar is no longer CEO and that we are no longer involved in F1, to bed."
On Saturday, it was revealed that investment firm Genii Capital was looking over Group Lotus' company books and considering whether to make an offer to buy it from DRB-Hircom.
A spokesman for the Luxemberg-based venture capital firm, which owns the Lotus F1 team - formerly owned by Group Lotus - told the BBC it respected the "historic link" between Lotus and Norfolk.