Norfolk and Norwich Festival ticket sales 'up 15%'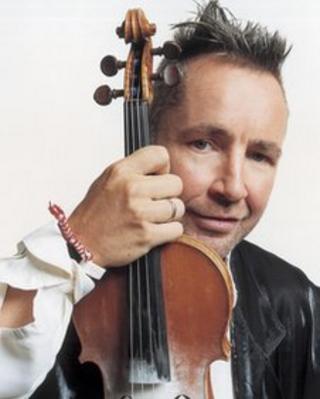 Advanced ticket sales for next month's Norfolk and Norwich Festival have increased by 15% compared to last year, organisers have said.
A number of shows are already returns-only, including a performance by violinist Nigel Kennedy.
The arts festival said it had also seen a "huge" rise in sponsorship, claiming it has almost doubled since 2011.
Arts director William Galinsky said this year's aim was to appeal to people "from all walks of life".
"It's all about accessibility and that means free or cheap," said Mr Galinsky, who is hosting his first full arts programme this year after taking over from previous director Jonathan Holloway.
"There is lots of great free stuff going on this year. We've also got £5 ticket deals for anyone under the age of 25, which is actually cheaper than a lot of cinemas these days.
"This year, particularly with the theatre and performance, I think that we've got things that appeal to lots of people.
'Cultural life'
"It's about a programme that will appeal to someone who's 15 or 16 and someone who's in their 40s or 50s."
Other shows that are also returns-only include concerts from the Berlin Symphony Orchestra and The Sixteen and performances on the festival's Jazz Boat.
Organisers said this year's in-kind and financial sponsorship at the festival had almost doubled, with the number of businesses signed up to entertain clients at the "Spiegeltent" trebelling.
Mr Galinsky said: "Despite significant investment from our funders and our first three-year commitment from the Arts Council, each year our team has to raise in excess of an extra £500,000 to ensure the show can go on.
"All of this means the festival can make a huge contribution to the cultural life of our region and our country.
Development manager Helen Egar said she was "enormously grateful" to the festival's corporate partners and added "without them our ambitions, especially for our work with communities, schools and free events, would be curtailed".
Organisers added, however, that they were still looking to increase sponsorship, particularly around performances during the London 2012 Festival in the summer.
Next month's Norfolk and Norwich Festival runs for 16 days, from 11 to 26 May.