Norwich nightclub Wafou has licence revoked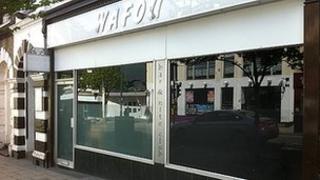 A Norwich nightclub has had its licence revoked after police complained of "crime and disorder" at the venue.
Wafou's licence was taken away by Norwich City Council after Norfolk Police said it persistently breached its conditions.
Police said there had been "excessive drunkenness" at the Prince of Wales Road club.
Wafou's owner, Al Fode Oulare, said he was "very disappointed" and would appeal against the decision.
Supt Paul Sanford, from Norfolk Police, said: "Unfortunately we felt there was no other option with this establishment, as the levels of disorder and intoxication associated with Wafou were excessive and the manager continually failed to address them, even acting aggressively and obstructively when the licensing team and other officers tried to engage with him.
'Considerable strain'
"A deliberate flouting of the licensing laws cannot be tolerated, so today's outcome is sadly the only way forward in this case."
On Monday Mr Oulare told BBC Radio Norfolk he had not breached any of his licensing regulations and felt he was being "targeted" by police.
He said Wafou was one of the of the "safest clubs in Norwich", adding he was "disappointed" by the police's comments in the club's licence review document .
As part of Mr Sanford's statement to the city council, he said Norwich's growing nightlife was putting a "considerable strain" on policing.
He said he was aware of the impact late-night drinking was having on the city's overall safety and added he was having to devote "significantly more" policing hours to Prince of Wales Road and its surrounding area.
Norfolk Police figures show there have been 336 more crimes between 03:00 and 06:00 in the three-year period since clubs in Norwich have opened beyond 04:00, compared with the three-year period before it started.
It said violent crime was the most significant type of crime in the rise.