Unstable house in Norwich's Finkelgate demolished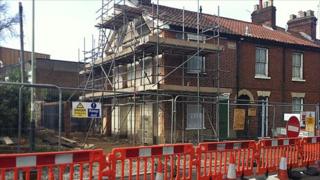 An unstable house in Norwich that forced the closure of a city centre road for more than a year has been demolished.
The end of terrace on Finkelgate, off Queens Road, was knocked down as the cost of rebuilding the property was disproportionate to its value.
The road has been at least partially closed since Christmas Day 2010 after subsidence caused cracks in the house.
It is believed the road could be fully reopened again by May.
Site project manager Peter French said: "The property suffered dramatic subsidence due to a burst water main in the highway which has been linked to a geological feature (layers of chalk, sand and gravel) at depth.
"The combination led to dramatic ground movements and has led us to the need to demolish. The adjacent property has not been unaffected."
Four terraced houses were evacuated on the road on Christmas Day 2010 after cracks caused serious damage to number 16 the evening before.
A spokesman for Norwich City Council said: "We're just waiting to receive formal confirmation from the construction company involved that it has completed work on the site before we can carry out a site investigation.
"Once we have been able to do this we will have a much clearer idea of any other work that needs to be done - such as reconstruction of the road - in order that it can be reopened."
Five of the six original houses remain on the site.
Norwich City planning department have told the BBC there are currently no planning applications for the cleared area.