King's Lynn Islamic centre: Queen's Arms plans approved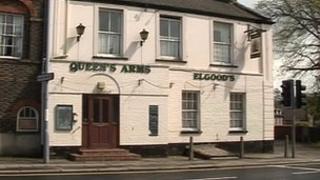 Controversial plans to convert a former pub in west Norfolk into an Islamic community centre have been approved by the council.
The West Norfolk Islamic Association (WNIA) will convert the Queen's Arms, London Road, King's Lynn, into a centre for prayer, education and events.
Assam Gabbair, WNIA chairman, said he was "overwhelmed" and the centre would "build bridges" in the community.
More than 700 objections to the plans were posted on the council's website.
Campaigners against the centre claimed it would be "exclusive" and become a target for crime and vandalism.
Some comments had to be removed for being racist and offensive.
The Borough Council of King's Lynn and West Norfolk planning committee approved the application by nine votes to eight.
Mr Gabbair said: "We are grateful to all the officers and authorities who recommended approval for this.
"In the wider context of the community, it will only help build bridges and any myths and perceptions out there we need to eradicate these. Hopefully we will focus on this."
A report to the West Norfolk planning committee recommended approval for the community centre.
The report said: "Considerations relating to the Islamic nature of the community facility are immaterial and cannot be taken into account in the decision making process."
In the planning application, the WNIA said the centre would develop a cultural awareness among Muslims and the wider society.
Marie Connell, from West Norfolk Community Action, said: "People need to learn about the differences that exist between all the different people that work and live in King's Lynn and west Norfolk.
"Once people know and understand those differences I think it's a lot easier for them to accept them and rub along together happily."
WNIA have yet to announce when the community centre will open.