James Paget hospital given third warning in less than 12 months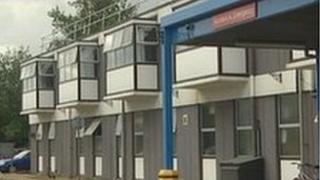 A hospital issued with its third warning in less than a year has admitted the pace of change has "not been fast enough".
A report from the Care Quality Commission (CQC) found "moderate concerns" over the standard of patient care at the James Paget hospital, in Gorleston, Norfolk.
There were also "minor concerns" over patient record-keeping.
The hospital said it was working to address the issues.
The CQC has given the hospital 14 days to respond to the report, detailing actions planned to deliver improvements.
The latest warning, details of which were leaked to the BBC last month, is the hospital's third since September, when inspectors found patients' nutritional needs were not being met.
'Turnaround situation'
In November, the hospital was warned for failing to monitor patient care systems.
Both warnings were subsequently lifted following further inspections.
A hospital spokesman said: "The publication of the latest CQC report... confirms that although improvements are being made at the James Paget, the pace has not been fast enough.
"The trust is currently in a turnaround situation, with significant changes at management level being made to drive forward the necessary improvements to deliver the standard of care that local patients deserve."
David Wright, a former non-executive director at the Norfolk and Norwich University Hospital, is due to take up a post as chairman of the hospital on 1 June.
Former boss David Hill returned to the hospital earlier in April to become interim chief executive after Wendy Slaney retired in December.