Suspected explosive device on Norfolk beach blown up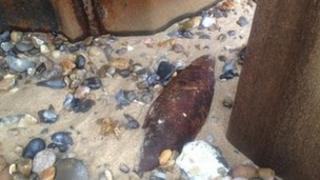 A device thought to be potentially explosive found on a Norfolk beach near a holiday centre has been detonated.
The device, not accurately identified because of its condition, was found on Saturday afternoon, partly buried on Hopton beach south of Great Yarmouth.
Wedged into a metal sea defences below the high water mark, it was 17ins (43cm) long and 4ins (10cm) wide.
Police ensured people were kept at a safe distance and sandbags were issued to local homes before it was blown up.
Mario Siano, Yarmouth Coastguard watch manager, said: "We contacted the Joint Services Explosive Ordnance Disposal (EOD) team and forwarded them photos of the device.
"They believed that it was ordnance and a team from Colchester in Essex dealt with the device at low tide."