Cathy Dennis and Jake Humphrey to get UEA degrees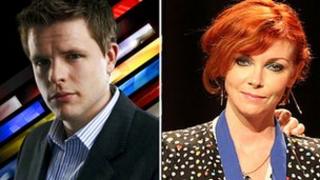 Songwriter Cathy Dennis and BBC broadcaster Jake Humphrey are to receive honorary degrees in July at the University of East Anglia.
Olympic cyclist Emma Pooley and actress Zoe Wanamaker have also been unveiled to receive accolades at the university.
Dennis will be handed a doctorate in music while Humphrey will get a doctorate in civil law.
Pooley will also be given a civil law doctorate while Wanamaker will receive a doctorate of letters.
Their degrees will be awarded at this summer's graduation ceremonies, which take place between 17 and 20 July.
Dennis was educated at Taverham High School in Norwich and has since gone on to write the two most played hits of the Noughties - Kylie Minogue's Cant Get You Out of My Head and Britney Spears' Toxic.
'Incredibly privileged'
Jake Humphrey worked for Anglia TV in Norwich before moving on to CBBC and in recent years BBC Sport.
He is due to be a part of the BBC's Olympics presenting team this summer.
Humphrey said: "I'm incredibly privileged to receive such an accolade from the University Of East Anglia.
"I must also admit to feeling rather embarrassed and very lucky to be meeting the rest of the graduates who have all had to study a lot harder than me to achieve their doctorates."
Pooley, who attended Norwich High School for Girls, shot to stardom after picking up a silver medal at the Olympic Games in Beijing.
She said the award was "especially fitting" as she used to train for her school running competitions in the grounds of the university.
Other people being honoured include film producer Brian Eastman, London Science Museum assistant director John Durant, Indian scientist Prof Monkompu Swaminathan and South African political activist Tony Trew.