Great Yarmouth outer harbour boss confident of new jobs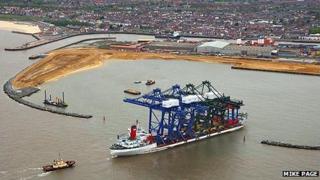 The new boss of Great Yarmouth's outer harbour said he was confident jobs at the port would increase, but warned it could take time.
Jamie Frater was made head of EastPort UK this week, replacing Eddie Freeman.
The £40m outer harbour was completed in 2010, but its proposed container trade was hit by the recession and its cranes were removed before ever being used.
Mr Frater said: "I'm confident that employment will grow, but maybe not at the rate some people would like."
He added: "We can see that the energy sector is our best way of heading and we see that will obviously offer jobs, but it will require people in Yarmouth to undertake specialist training.
"But we are here to be successful, we're here to create jobs and we're here to promote Great Yarmouth.
"This port will always be here - we've got a lovely facility and we've still got room for development."
Former EastPort UK boss Eddie Freeman stepped down on Monday after overseeing the creation of the harbour, stating he wanted to take on "new challenges".
The harbour's original business plan stated about 1,000 new jobs would be created at the port, but its trade was badly hit by the global recession.
EastPort announced 18 months ago the £30m container cranes installed at the harbour were to be removed and shipped to Italy before they were even used.
'Great potential'
EastPort UK came under fire as public money had been spent constructing the harbour, but Mr Freeman said taxpayers' money had not been wasted on the cranes, which were privately funded.
After deciding to step down, Mr Freeman said it had been a "bumpy" but "fun" five years in charge, adding it was a "fantastic result" that the harbour had been built and was now up-and-running for future use.
The outer harbour is currently home to a number of firms working with the offshore energy industry and has a new £5m grain export terminal.
Mr Frater said: "The energy sector is new to me. It's challenging, but it's got great potential and I'm quite excited by that.
"Yarmouth is a small port but we want to build Yarmouth and give opportunities for jobs for the future."
In January a Great Yarmouth borough councillor said the offshore wind industry could increase the population of the seaside town by 20,000 - nearly 20%.
Work on the East Anglia Offshore Windfarm Zone - thought to be one of the largest wind farms in the world - is expected to start off the east coast in 2015.