King's Lynn incinerator: MPs urge burner planning rethink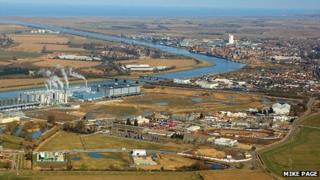 Two more Norfolk MPs have objected to the way in which the county council could award itself planning permission for a controversial waste incinerator.
Liberal Democrats Norman Lamb and Simon Wright have sent a joint letter to the communities secretary to "call in" the application at King's Lynn.
They requested that Eric Pickles be given the "independent" power to decide whether or not it should be built.
Norfolk County Council approved the site's construction in March 2011.
Mr Lamb, business minister and MP for North Norfolk, said he had been contacted by Lib Dem county councillor Tim East who felt the applicant should not be the decision maker.
Norfolk Conservative MPs Henry Bellingham and Elizabeth Truss have previously sent letters to Mr Pickles to call in the application, as has the Borough Council of King's Lynn and West Norfolk.
'Many requests'
Mr Pickles has so far received 3,565 letters urging him to review the planning process, his office said.
Since its inception, campaigners have aired concerns over health and whether the proposed £500m plant at Saddlebow would offer the best solution to the county's waste problems.
Developer Cory Wheelabrator said the incinerator would save the county council taxpayer £200m and divert 250,000 tonnes of waste away from landfill.
Graham Plant, cabinet member for planning and transportation, said: "The secretary of state receives many requests to call in planning applications of all kinds and the matter of whether or not to call them in rests solely with him."
Last week the council set up another public consultation on the incinerator, asking people to comment on extra information it had received from the developer.
The county council's planning sub-committee is due to consider the planning application in the summer.
It would have to pay Cory Wheelabrator up to £20m in compensation if it decides not to award planning permission.
In January, environment secretary Caroline Spelman awarded the plant £91m of private finance (PFI) credits.