Gorleston cemetery woman 'devastated' by graveyard error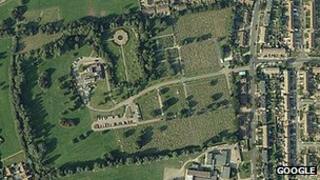 A woman who reserved a graveyard plot next to her dead mother's has said she is "devastated" after somebody else was buried in a new space between the two.
Sue Smith bought the plot next to her mother's grave, separated by a pathway, at Magdalen Lawn Cemetery, Gorleston.
The cemetery has since removed the path and used the "available" plot in the middle but failed to inform Mrs Smith.
Management at the Norfolk cemetery have apologised to Mrs Smith but said they "can't do anything about it".
Mrs Smith's mother, Pat Knowles, was buried in the Gorleston cemetery in 1988.
She said: "My mother's plot is plot 60... there wasn't a 60A at the time or my sister would have purchased it.
"My sister-in-law noticed, she saw the flowers there and she thought I'd passed away - that they were my flowers."
Speaking to BBC Radio Norfolk at the cemetery, Mrs Smith said: "That's my mum's grave, my plot is here and they've chosen to bury somebody in between us. My sister wasn't contacted and we're just devastated."
Derek Smout, deputy manager at the cemetery and crematorium, said: "As far as we were aware, the plot was available which was near [to somebody else's relatives], so we sold it on goodwill.
"We can't do anything about it. It would mean two families fighting it out and one is going to win.
"It's a mistake and obviously we'll be looking at rectifying this in the future so it doesn't happen again."