Great Yarmouth graveyard restoration project under way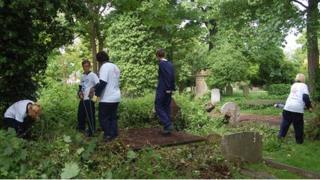 Graves of murder victims, inventors and artists are being restored as part of £120,000 cemetery maintenance project in a Norfolk seaside town.
Young Prince's Trust volunteers and a number of conservators are working at three cemeteries in Great Yarmouth to maintain and repair at-risk monuments.
The restoration, funded by charities and the borough council, is expected to take more than two years to complete.
The council said many headstones had become "overgrown and vandalised".
The work is being carried out at St Nicholas' cemetery and the old and new cemeteries on Kitchener Road.
Graves being restored include those of James Beeching, inventor of the self-righting lifeboat, landscape artists Charles Harrison and Stephen Batchelder and Mary Bennett, victim of a notorious strangling murder in 1900.
Once complete, the graveyards' histories will be illustrated on information boards and guided tours will be organised.
Bernard Williamson, Great Yarmouth cabinet member for transformation, said: "The area is an important heritage site and wonderful natural environment. Many of the monuments have become overgrown, vandalised and are deteriorating.
"This community-led project will not only provide a range of training, learning and volunteering opportunities but will give back a valuable resource which I hope will be appreciated by all."