YMCA Norfolk reaches target for Norwich homeless project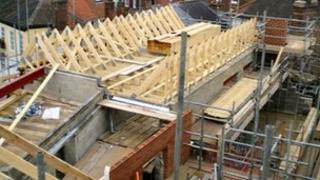 A charity for homeless people has reached a £1m public fund-raising target to create new housing units.
YMCA Norfolk is developing 40 self-contained flats for young homeless people on Bethel Street, Norwich.
The public appeal completes the fund-raising for the £4.4m project.
Tim Sweeting, YMCA chief executive, said: "This will help us offer the care and respect they need to overcome the significant difficulties they will have faced before reaching us."
YMCA Norfolk opened a 34-bed assessment centre next to the Norwich bus station in 2009, which it said has had nearly 500 applications and a 98% occupancy rate.
The Bethel Street project is the next phase which will provide homes for those moving on from the assessment centre.
The Right Reverend Graham James, Bishop of Norwich and chair of the YMCA Norfolk Council of Patrons, said: "The young people who will benefit have often experienced harsh treatment, rather than generosity and care.
"I'm delighted that YMCA Norfolk will now be so well equipped to help them."
The Bethel Street project is due to open in August.