Downham Market Health Centre inquiry: Ex health trust chief to leave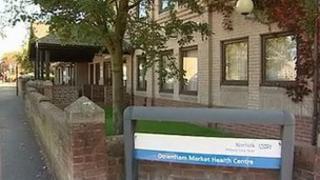 A former CEO is to leave a Norfolk health trust after an inquiry into a Norfolk GP centre found a patient died following delays in treating her.
A review was called into Downham Market Health Centre last year, which found four serious incidents at the practice.
Sheila Adams-O'Shea, CEO of Norfolk Community Health and Care NHS Trust at the time of the incidents, will leave in September, the trust said.
Seven other senior managers were also investigated following the review.
In a statement, NHS Norfolk's chief executive Andrew Morgan said the seven had now either retired, left the NHS, are leaving or had been moved to new roles within the health organisation.
'Serious deficiency'
He added Ms Adams-O'Shea had stepped aside from her former role before the independent external review was published and had been working elsewhere in the NHS, but not as a chief executive or accountable officer.
He said her notice with the trust would come to an end in September 2012.
The eight managers were part of 30 staff who were investigated about their involvement at the practice, between March 2010 and March 2011, where the patient died and three other serious incidents occurred.
An independent report into the centre found "a serious deficiency in safe general practice" and added it was "allowed to slip beneath the managerial radar" of both NHS Norfolk and the Norfolk community health trust.
During March 2010 and March 2011 the centre was run by temporary staff. It has been under new management since April 2011.
It was renamed The Hollies Surgery in October.
Elizabeth Wilkinson, whose daughter Katherine Wilkinson died in February 2011 after a locum doctor failed to respond to her call, said: "I am satisfied with the outcome of the inquiry, in that it attacked the top end and has shaken out what has happened at Downham Market Health Centre, or what didn't happen.
"I feel as though I haven't been able to give myself time to grieve about Katherine's death. It's been hard, it's been a long journey."
South West Norfolk MP Elizabeth Truss, who called for the inquiry, said: "This has been a long and drawn out investigation but eventually decisive action has been taken.
"Serious failings occurred at the health centre prior to 1 April 2011 and I am concerned that if pressure had not been maintained by the patient group and relatives, no-one would have been held accountable for these failings."